Project Team
Architect: Elemental Architecture and Interiors Inc.
Structural Engineer: Read Jones Christoffersen Consulting Engineers
Mechanical Engineer: AME Group
Electrical Engineer: Applied Engineering Solutions
Construction Manager: Heatherbrae Builders
Client: Corporation of Delta
East Elevation
The building envelope materials comprising of sandwich metal panels, glazed curtain wall and stone veneer were chosen to address the Corporation of Delta's requirements for energy efficiency, quick delivery, and ease of installation. It was critical that the building envelope be fully enclosed to allow ice making to begin for the September hockey season.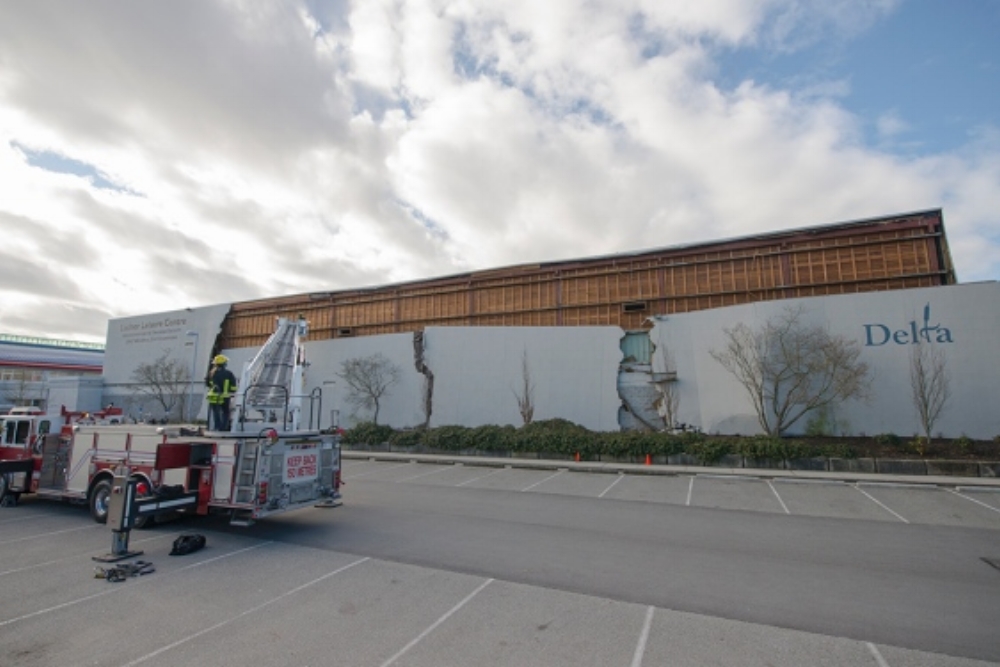 Building Envelope Before Repairs
In February 2014, the original portion of the ice arena suffered a building envelope failure resulting in the sudden collapse of the stucco facade on the east wall. The arena was closed to the public and the Corporation of Delta issued a Request for Porposal for the services of a qualified architect to re-mediate the facility.
East Elevation at Sunrise
Metallic Kynar finish metal panel reflect the morning sun and deep blue glass panels in the curtain wall band. Granite stone and spray foam insulation was installed over the existing exposed concrete block.
Arena Signage
Signage designed by Elemental was manufactured and installed by Galaxy signs. The Kingspan metal panels were installed by Thermo Design Insulation Ltd. The stone was supplied and installed by Wolf Masonry and the curtain wall was supplied by Kawneer and installed by Semiahmoo Glass. Heatherbrae was the construction manager for this project.
Winner of the 2015 RFABC Outstanding Facility Recreational Award
Arena Interior Before Repairs
Due to an undersized dehumidifier, the interior steel was corroding especially above the low-e ceiling where there was no ventilation provided.
Arena Interior After Repairs
The existing low-e ceiling was removed to allow seismic upgrades and removal of corrosion on the existing steel trusses. All of the steel structure was protected with new epoxy paint after abatement of the lead paint. The interiors were decorated with fir strapping and acoustic metal panels.
Project Details
Budget: $3.5 Million
Completion Year: 2015
Location: 4600 Clarence Taylor Cresent Delta, B.C.